I was just sitting here, minding my own business, when I saw it again. The most horrifying thing on TV that I have ever seen - a Burger King commercial.
Yes, the Burger King mascot (you know, that king guy with the creepy smile?) freaks me out! And I am not the only one.
This message board
has plenty of people who think he is creepy too. I mean, think about it - he always has that smile, he shows up in the most unlikely places, and is so danged quiet! (shudder) Look at him and beware!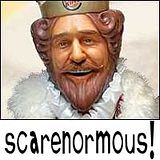 What makes you squeamish on TV?